The 4-3-3 formation is usually used when playing a fairly narrow game through the central corridor, although the wide midfielder and wide fullback should be encouraged to use the width of the pitch when the ball is on their side of the pitch.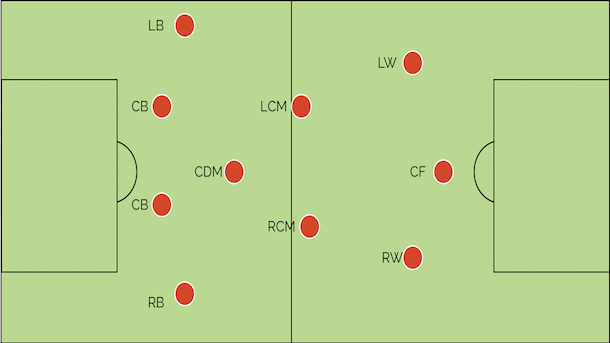 Role of the Defenders
The 4 defenders must operate as a team and combine to provide pressure on the ball and supportive defensive positions in order to maintain a balanced defensive formation.
The roles of the defensive unit are the same as those in a 4-4-2 formation.
Role of the central defenders
The central defenders are the core of the defence. Often one is nominated as a sweeper and it is the sweeper that controls and directs the defence. The central defenders should not be drawn out wide, and should be disciplined to stay within the central corridor. ie no wider than the boundaries of the penalty area.
Role of the Wide Defenders
The wide defenders have defensive and attacking duties.
If the attack is coming down the right hand side, then the left sided defender should move across to the center of the pitch to offer a good balanced defence.
The general rule of thumb is that the wide defenders should not stray past the middle of the pitch.
The wide defenders can also be used in an attacking way by offering overlapping runs and then crossing the ball for the forwards to strike on goal.
Role of the midfielders
In a 4-3-3 formation, the midfield need to operate as a compact unit, and work as a team to provide a link between the defense and the attack.
Because there are only 3 in the midfield, it is vital that the players are very fit, operating between the penalty areas and can perform both attacking and defensive duties.
The midfield should offer support to the attackers from the central corridor, behind the attack rather that out wide.
Role of the Attackers
Because there are 3 attackers in a 4-4-3, the attackers have a little more freedom in their positional play.
The attackers need to work together to make sure that at least 2 of them are in "The Scoring Zone" when the ball is delivered there.
It is possible to have one wide and two central, or two wide and one central attacker.
With 3 attackers, there is more potential to have movement off the ball to distract the defence and create space. This must be expoited to the fullest to take advantage of having 3 attackers.
As with any soccer formation, the attackers must be fast, fearless, agile and be prepared to shoot at any opportunity, even a toe poke or using the their non preferred foot is preferable to not shooting at all.